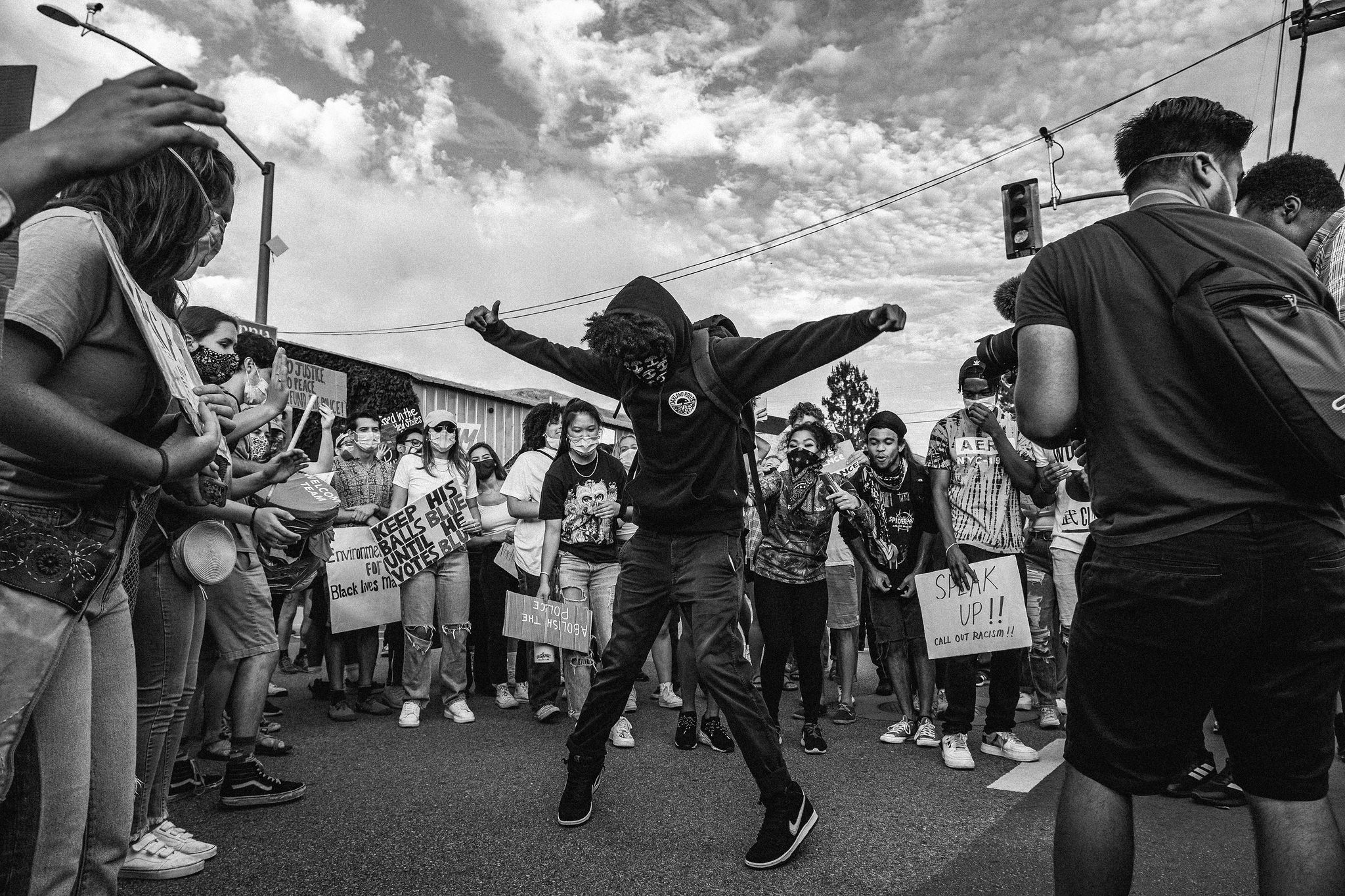 Details
Following the harrowing murder of George Floyd last May, outraged citizens nationwide gathered in their communities to protest systemic racism and police brutality in the United States. While protests in major cities garnered the bulk of media attention, it was sustained actions in smaller communities like San Luis Obispo that made up the bulk of what is now recognized as the largest civil rights movement in history, Black Lives Matter. The photography created around these protests, both in San Luis Obispo and nationally, has played an important role, serving as both a record of the moment and a vision for the future.
Activist Richard Fusillo served as one of the local movement's foremost photographers and eye witnesses to what grew into an unprecedented series of direct actions in San Luis Obispo. Amongst the activist community here, a multiracial group largely being led by young Black activists, Fusillo's images that capture both the energy of moments ignited by violence and injustice and uplift the power of joy and celebration have been embraced as a way to record the movement. His photographs frame crucial moments of both tension and joy and serve as a testimony to what activism in small towns can look like when people take collective action.
The relationship between photographers and activists is a sensitive one; and the Black Lives Matter movement has re-invigorated and re-interrogated the conversation about photographer and subject. Fusillo's work relies on his ongoing relationships with community leaders and his sustained presence at protests, rallies, and gatherings.
Available as part of this exhibition is audio recorded by leading Black Lives Matter activists from San Luis Obispo discussing their experiences with this historical moment and their visions for its future.
We All Bleed is hosted in collaboration with:

As an organization that aims to center the experiences of Black and other People of Color through cultural projects, R.A.C.E. Matters is proud to collaborate on the exhibition We All Bleed with photographer Richard Fusillo and the San Luis Obispo Museum of Modern Art. The inclusion of audio excerpts allows local activists to speak directly to their experiences protesting in San Luis Obispo. In the Summer of 2020 in our small town, brave young activists cried out for big change. We honor their voices. ~Courtney Haile, co-founder, R.A.C.E. Matters SLO
About:
"R.A.C.E Matters' mission is to center the lived experiences of Black and other People of Color through anti-racism education and cultural projects. We fulfill our mission through workshops, special events, cultural projects, and rapid response to racial and social injustice. In 2016, R.A.C.E Matters formed in response to the killing of unarmed Black men by law enforcement. A group pf like-minded people began to meet, seeing a need for local engagement around racial and social justice."
Learn more about R.A.C.E Matters HERE.
Related Programming:
April 24, 2021: Screening of SNCC by Danny Lyon. In partnership with R.A.C.E Matters, and SLO Motion Film , SLOMA will be hosting a screening of SNCC, a film by civil rights photographer Danny Lyon. This event will also include a conversation between Lyon and local Black Lives Matter activists after the film. The film will be screened both in-person with proper COVID precautions and virtually for viewers at home. Tickets for this event will go on sale April 10 and in-person guests can sign up for a timed viewing of We All Bleed installed in the gallery. All ticket proceeds will go to R.A.C.E. Matters SLO.
Please enjoy a virtual walkthrough of the exhibition, courtesy Lynn Schmidt and Haven Properties.
Make the exhibition more interactive with this customized Spotify playlist to accompany We All Bleed.