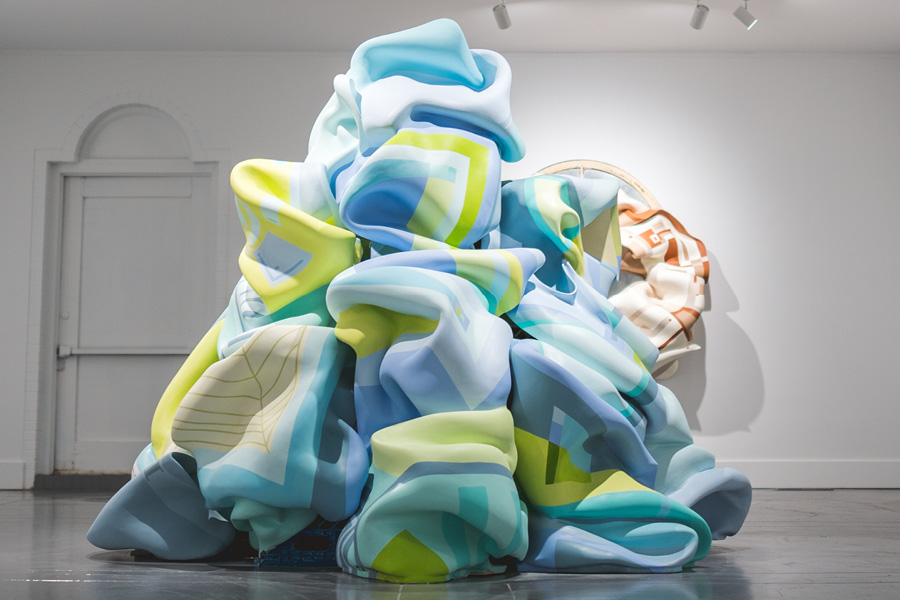 Details
Marela Zacarías creates painted sculptures of undulating forms as if they were fabric bodies filled with movement and expression. Through their colorful and elegant presence, her works invite exploration and curiosity. Working with a labor- and research-intensive process, Marela Zacarías molds window screens and plaster to fabricate her works. The sculptures' surfaces are covered by geometric abstractions––painting, shapes, and patterns borne from the artist's study of the history of the site of work, textile history from all over the world, observations of nature, and her own subconscious.
Storytelling at the San Luis Obispo Museum of Art is the artist's museum premiere on the West Coast. This special collection of work pulls from the spirit of exploration in Zacarías' expansive practice. The large center sculpture, Coatlicue's Return, references the story of the Aztec deity and earth-mother goddess Coatlicue who symbolizes growth, destruction, and rebirth. Recent wall-mounted sculptures such as Striped Calathea, Photosynthesis, and Red Aglaonema are reflections of the stories and transformations of plants. North Wall and South Wall are each presented on a mirrored window pane, and invite the audience to literally find themselves in the work. Deeply influenced by global textile history and practice, Zacarías' work with abstraction allows the stories behind her work to be filtered and reformed, and the narrative to emerge in a different, new way.
About the Artist
Marela Zacarías (b. 1978) has held solo exhibitions at the Brooklyn Museum, Sapar Contemporary, Praxis Gallery, the National Arts Club, and Art at Viacom in New York; at MadArt Studio in Seattle, WA; at Wasserman Projects, Detroit, the Brattleboro Museum, Vermont and Galería Alterna in Mexico City and she has completed large-scale permanent site-specific commissions all over the US and Mexico.