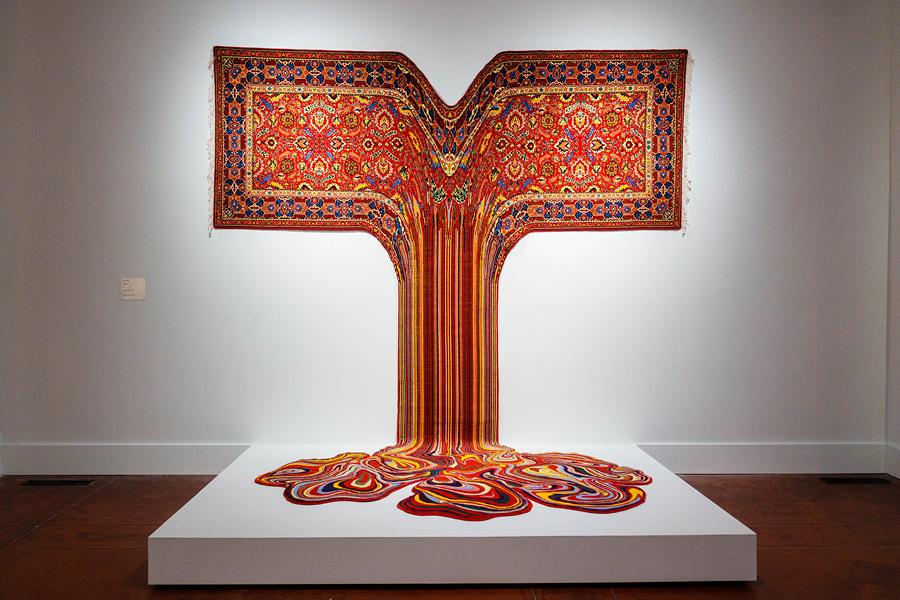 Details
Many of us struggle with the ongoing digitization of our lives – particularly present during the pandemic. All of us know the exhaustion that stems from a long day of video calls, or hours without looking away from the screen. We have all wrestled with the online algorithms that seem to direct what we look at, what we buy, even who we love. Artist Faig Ahmed's monumental works invite us to consider ways traditional and digital culture can be reconciled and revolutionized into something with more flexible boundaries. Though many of Ahmed's carpets adopt elements of digital culture — references to pixels and coding, for example — their textile, household form keeps us grounded in our roots, and beckons us to consider the many forms of our diverse histories.
From his studio in Baku, Azerbaijan, Ahmed creates textile works that transcend and transform the history of carpet making in the region. Ahmed is interested in how the contemporary and the traditional collide to create something new that defies genres, borders, and even history. Ahmed and his weaving collaborators infuse new breath into the carpet-making practice, turning his textiles into a rich meeting ground between the new and the old, the common and the holy, the rich and the ordinary.
Working in collaboration with Nina Levent, Director of Sapar Contemporary, the Museum is organizing an exhibition of works that spans Ahmed's career — while focusing on works primarily made within the past five years — 2016 to 2021. Presenting this work for the first time on the Central Coast of California offers the arts community a unique opportunity to engage meaningfully with a practice and a body of work that has never been exhibited in this region. Complementary programming with local school districts, guided docent tours, and a lecture program will accompany the exhibition. The works in this exhibition are loaned from major collections from all over the world.
About the Artist
Faig Ahmed is a multimedia artist working with textiles, painting, video, and installation. Ahmed is best known for his conceptual works that deconstruct and rearrange fragments of traditional Azerbaijani rugs to create contemporary sculptural forms. His work reimagines ancient crafts and creates new visual languages by disassembling traditional works and stereotypes. Born in Sumqayit, Azerbaijan, in 1982 Faig Ahmed went on to graduate from the Sculpture Faculty at the Azerbaijan State Academy of Fine Art in Baku in 2004. He represented Azerbaijan in nation's inaugural pavilion at the Venice Biennale in 2007 and participated in the 2013, "Love Me, Love Me Not" event. In 2013, he was nominated for the third edition of the Jameel Prize organized by London's Victoria and Albert Museum. He now lives and works in Baku, Azerbaijan.
Teachers: click here for educational resources for Faig Ahmed: Collision. Click here to schedule your free school group tour of the exhibition, including an art activity kit for each K-12 student.
Banner and image gallery credit: Heraldo Creative Studio