Details
Most of us have experienced contexts where we were not welcome. That familiar feeling of anxiety that creeps through our bodies — sweaty palms, quick heartbeats, churning stomach — is one that many communities in our divided world regularly experience in their daily lives. This exhibition by Anila Quayyum Agha creates a space where all are welcome – regardless of cultural, racial, economic, and social differences. Half of the gallery is transformed into a geometric explosion of light and shadow, one where we are invited to linger at length — releasing, relaxing, and reflecting. The other half of the gallery celebrates Agha's ornate and intimately beautiful two-dimensional works using mylar, embroidery, beads, and encaustics. The exhibition's title work, Liminal Space, further celebrates the expansive experimentation of the artist's practice, as one of a new series of diamond-shaped hanging relief sculptures.
As a Pakistani immigrant, Agha's work references ancient Islamic motifs, reinterpreting floral and geometric patterns found in artistic expressions of Asia and Africa. Within Agha's art works are curious contradictions — contemporary and historic, public and private, sharp lines and organic shapes. In this exhibition, the artist invites us to dig deep into the curious contradictions within ourselves – our identities, bodies and minds. Where can we soften and expand? Where do we need to look closer? Offering healing in a dark world, Liminal Space imagines a new and sacred world, full of hope.
About the artist
Anila Quayyum Agha (b. 1965) is internationally recognized for her award-winning large-scale installations that use light, shadow and pattern to create inclusive, immersive and shared experiences. International exhibitions include the Amon Carter Museum in Texas; National Sculpture Museum, Valladolid, Spain, and the Chimei Museum, Taiwan. Agha's work has been shown at international Art Fairs like Masterpiece-London, Delhi Art-Fair, Abu Dhabi Art-Fair and the Armory. Major awards include the 2019 Painters and Sculptors Grant from the Joan Mitchell Foundation and the 2021 SARF (Smithsonian Artist Fellowship). In 2019, Agha's work was included in She Persists at the Venice Biennale.
Liminal Space
SLOMA welcomed artist Anila Quayyum Agha to the historic Palm Theatre for an artist's talk. The presentation was recorded and is available to watch for free on SLOMA's Artist Talks and Panels page.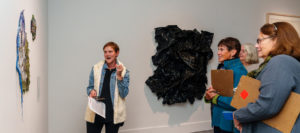 Every Saturday at 11 AM: Join a free tour of the exhibition led by our trained docents. Check in at the front desk.
Contamos con visitas guiadas en español, las puedes solicitar al correo esaperstein@sloma.org para agendar.
Learn more about Liminal Space in our media mentions. #SLOMAinthenews
Fast Times at SLOMA. LA Weekly, Shana Nys Dambrot. Aug 24, 2023.